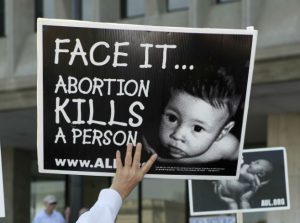 The California legislature passed a law that essentially forces licensed pregnancy centers, in the business of saving unborn lives, to promote killing the babies and to remind women they can have it done "free" or at a low cost.
Three pregnancy centers sued on First Amendment freedom of speech and religion grounds. A federal court rejected their request for a preliminary injunction to stop the law's enforcement.
An appeals court also rejected their request and contended that the law forcing pro-lifers to promote the death of the unborn doesn't violate the plaintiffs' First Amendment rights; the law is "neutral," doesn't discriminate against viewpoint, and survives a rational-basis review.
PJ Media reported that the pregnancy centers recently announced that they will appeal to the U.S. Supreme Court.
"In essence, the law mandates that pro-life centers become abortion referral agencies, totally against their convictions, against their foundational beliefs, compelling speech," Tom Glessner, president and CEO of the National Institute of Family and Life Advocates (NIFLA), told PJ Media in an interview at the Conservative Political Action Conference (CPAC).
…
Most PRCs defended by NIFLA fall under this law, since they provide confirmation of pregnancy through ultrasound services, along with sexually transmitted infections (STIs). "Some of them are providing STI testing and treatment services, they all provide counseling, material resources, cribs, baby clothes, maternity clothes, accessories, referrals for adoption, referrals for legal help, referrals for housing," Glessner said.
Once President Donald Trump's choice for the Supreme Court, Judge Neil Gorsuch, is appointed, the plaintiffs might have a fighting chance to continue their mission to protect unborn babies and help the women.
Photo credit: American Life League (Creative Commons) – Some Rights Reserved