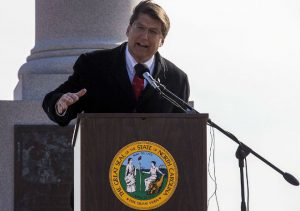 A federal court blocked North Carolina's law that required residents to present a government-issued photo ID to vote.
Gov. Pat McCrory asked the nation's highest court on Monday to reinstate the law for the upcoming election while the case is on appeal.
The Supreme Court ruled in 2008 that it's not unconstitutional or unreasonable for a state to require a voter to present photo ID. From the News & Observer:
"Allowing the 4th Circuit's ruling to stand creates confusion among voters and poll workers and it disregards our successful rollout of Voter ID in the 2016 primary elections," the Republican governor said in a news release. "The 4th Circuit's ruling is just plain wrong and we cannot allow it to stand. We are confident that the Supreme Court will uphold our state's law and reverse the 4th Circuit."

The McCrory administration hasn't yet petitioned the Supreme Court to hear an appeal of the ruling, but it said it will submit one soon.