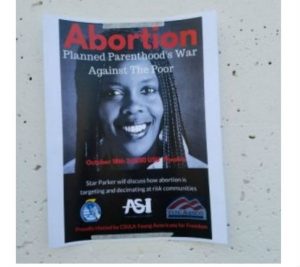 Just a couple of months ago, protesters tried to keep me from speaking on a college campus. They destroyed my posters, threatened violence, and shouted down the students who invited me. But that didn't stop me. I arrived on campus and I spoke to students from both sides of the aisle who were willing to listen to me, even under police escort (and my good friend, former NFL player Rosey Grier!).
As we watch the progressive violence on other campuses, here's why it is important that I be there and tell my story:
With few exceptions, nearly every policy maker, journalist and influencer in our country is a graduate from a college or university.
You know I founded CURE to go into the lion's den and fight where few conservatives have dared to go for half a century: the inner-cities and also our nation's college campuses. I devote my life to speak to college students because they are the ones who will make public policy and run government.
Even now, I am still surprised when I run into policy makers who tell me that they first learned about me when I spoke on their college campus from years ago. I am proud that I gave them education and hope as they sat through liberal indoctrination so they could earn a college degree to be in a position to protect freedom today.
Liberals know this fact, too. Too many students have no clue what conservatives believe unless we actually tell them! Many who sit through my speeches tell me they had never considered my point-of-view. This is why my presence on campuses is a direct threat to the destructive progressive agenda. And it's why liberals will do everything — including violence — to keep me away.
But they cannot keep me from spreading our message of freedom because I know you have my back.
Thank you for all you do for freedom!
Stand up for free speech. Stand up for education. Stand up for America!